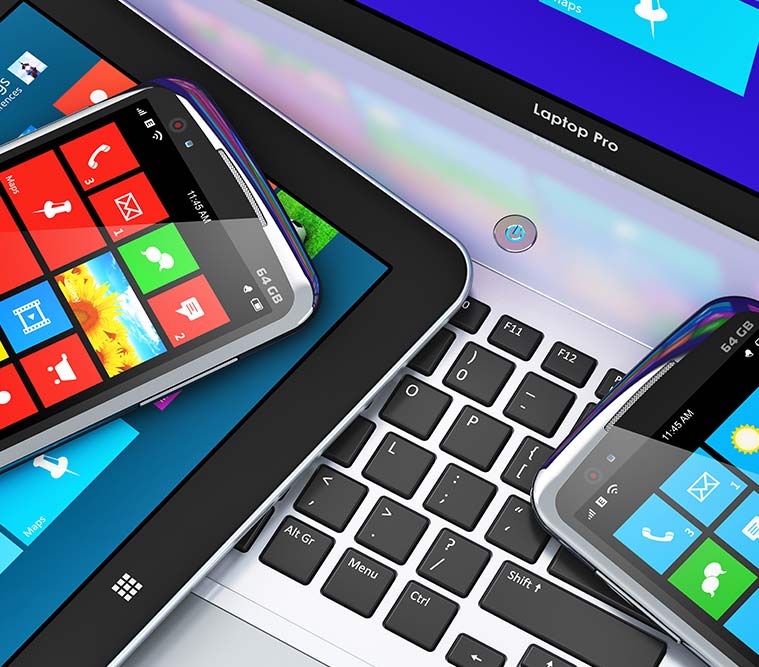 Professional Services
Your business has evolved, grown and changed through the years. A process or policy that you had in place when the company began may have changed; perhaps you have more people, expanded your locations or added a product or service.
Just like your business, technology doesn't stand still. You're probably not using a pager to communicate with your team or writing proposals on a typewriter. But what technology should you be using?
That is an answer for experts like Pearl Solutions Group.  
It's not OSFA
There is not a "one-size-fits-all" when it comes to IT. How your team functions and how you service your customers is different than any other business. It's not your job to know all the options and how you can best leverage technology for profitability and efficiency.
But, it is your job to make sure you're not setting up your company to be at a disadvantage because of outdated equipment, inefficient tools and security vulnerabilities. Is your company "making do" with your current networks and systems? Or maybe you think your team is not getting the most out of Microsoft. How about cloud services, can you tell the difference between the options? We are a data and IT company with solutions to these questions. 
Yes, it's confusing and stressful to think long-term or make changes to IT infrastructure, but there is a cost to not employing the right tools for the job. And ultimately a cost to standing still.
The importance of access
You need access to your data and your people. Most companies require remote work options, cloud services and connectivity to multiple devices that need complex and multi-layered solutions. Fortunately, we're good at that.
We believe in enterprise-level grade services, solutions and hardware – no matter what size your business is. What does that mean for you:
Intelligent infrastructure design that reflects YOUR company's needs, not cookie cutter
Software that works seamlessly with your processes
Future-forward planning; we ask questions about the long-term
Making sure you address security vulnerabilities
Dependable, safe access to your data and your people
We'll take the time to explain options because we're passionate about technology and how it can help solve problems and save you money when used correctly. We have high standards for our business and for our customers. 
How does this service work?
Typically, professional services are on a project basis. Each customer is different — we describe this service as adaptable, customizable, thorough and strategic. First we discuss priorities and goals, then we do a thorough analysis and assessment. We'll agree upon a the scope of deliverables and then put everything in place. 
We recognize you have to make decisions that impact many people, from your employees to your own customers and clients. With Pearl Solutions Group, you will be confident and relieved knowing we're there to protect your reputation and make big picture IT planning — and implementation — easy.
Microsoft 365
Microsoft 365 combines great new value with your familiar Office offerings—delivering the most comprehensive set of productivity, collaboration, analytics, security, and compliance capabilities of any Office yet.
Microsoft Azure
Microsoft Azure is an open and flexible cloud platform that enables you to quickly build, deploy, and manage applications across a global network of datacenters. Integrate your cloud applications with your current IT environment and build applications using any tool or framework.
Microsoft Teams
Teams is the hub for teamwork in Microsoft 365.  Invite everyone you work with to chat, meet, Microsoft or third-party apps, call and collaborate all in one place, no matter where you are. 
Microsoft SharePoint, Power BI or SQL Administration
These core applications are used across most organizations to enhance user productivity and run business applications. They can be complex to deploy and support so many companies never realize the full potential of the products. Working with a leading partner with the depth of experience in these areas allows your team to use these tools to their full potential.

Pearls of wisdom
"Knowledge is expected… customer service is delivered along with out-of-the box thinking. Plus innovative ideas that were beyond what we expected. Thank you to the people at Pearl for taking my company to the next level and leaving the competition behind."
— Scott Patton
COO, Keller Williams Realty West
Schedule a Roadmap Assessment
During this brief discussion, you can tell us your concerns and we'll give you some guidance (for free) about how to improve gaps in your IT strategy.